Dust off those gloves, sharpen those spikes, and brace yourself for another exciting(?) season of New York Mets baseball! Welcome back to Midwestern Met, where for the third straight season I'll bring you game-by-game coverage of your favorite team and mine.
I've already done a bunch of Mets-specific analysis on Rising Apple, and you can find my predictions of the team's Opening Day roster and record at the end of the year by clicking on the respective links. Below you will find extended analysis of other predictions I've made about the rest of the Show, 2013 edition.
Division Standings
AL East
1. Toronto
2. Tampa Bay
3. Baltimore
4. NY Yankees
5. Boston

The Blue Jays were the busiest team in all of baseball in the offseason and are also the most improved. Two former Mets icons, R.A. Dickey and Jose Reyes, will lead the team back to the playoffs for the first time in 20 years. Second place is a tossup: the Rays and Orioles will fight neck and neck for the Wild Cards, but it will be tough for Baltimore to duplicate its luck in one-run games. It's refreshing to see the Yankees on the edge for the first time since before the '94 strike; with the roster torn apart by injuries and Hal Steinbrenner suddenly running his team like an austere Eurozone country, the Bronx Bombers will struggle to finish with a winning record, let alone make the playoffs. The only reason they stay out of the basement is a Boston team still too dysfunctional to compete in baseball's strongest division.

AL Central
1. Detroit
2. Cleveland
3. Kansas City
4. Chi White Sox
5. Minnesota
The Tigers and Twins are almost guaranteed to bookend the AL Central, while the middle three are pretty much interchangeable. The Indians did more work in the offseason and the Royals are probably still a year away from really competing, but KC can still leapfrog into second if their pitching steps it up.

AL West
1. LA Angels
2. Texas
3. Oakland
4. Seattle
5. Houston
It's hard to pick against the team with Mike Trout, Albert Pujols, and now Josh Hamilton. The Angels are by far the presumptive western favorites going into the season, but they could falter due to sky-high expectations. The Rangers have enough backlogged talent that they can cushion the blow of losing Hamilton, but it will take some fighting to get one of the Wild Cards. Oakland as always has the potential to sneak up on everyone, but that doesn't mean they should be expected to finish higher than third; possible, far from probable. Seattle's biggest offseason acquisition was Jason Bay, which in summary says that if there were still four teams in this division they would finish in the basement. Alas, the Astros are an absolute mess and it will show in their first year in the American League.

NL East
1. Washington
2. Atlanta
3. Philadelphia
4. NY Mets
5. Miami
We've dissected this division constantly on Rising Apple, and the general consensus is as follows. The Braves are in great shape but the Nationals are too talented not to finish at the top. The Phillies are old, but are probably comfortable in third because of the Mets' and Marlins' problems. If the Mets can get it together they could challenge for third if Philly's vets all break a hip. The Fish are closer to the Florida State League than the National League, so let's leave it at that.

NL Central
1. Cincinnati
2. Pittsburgh
3. St. Louis
4. Milwaukee
5. Chi Cubs
If Aroldis Chapman reduces every game to just eight innings, the Reds could run away with the Central. The Pirates have made improvements every year, and while they've collapsed the last two seasons, they've done so later each time. This time if they do begin to collapse, it will happen long after they've secured their first winning record since Barry Bonds played for the team. The Cardinals are always solid and won't finish below .500. The Brewers aren't anything special, but the hapless Cubbies will keep them out of last place.

NL West
1. San Francisco
2. Los Angeles
3. San Diego
4. Arizona
5. Colorado
It's nothing but a two-horse race out West between the defending champs and the free spenders, but a combination of strong pitching by the Bay and crushing expectations at Chavez Ravine will result in another one-two finish by the Giants and Dodgers. SF can sew it up if Tim Lincecum is back to his old self. As for the bottom feeders, the Diamondbacks did more to tear themselves down in the offseason than did the Padres. The Rockies are buried under snowfall and won't be dug out until about the second round of the Home Run Derby at Citi Field.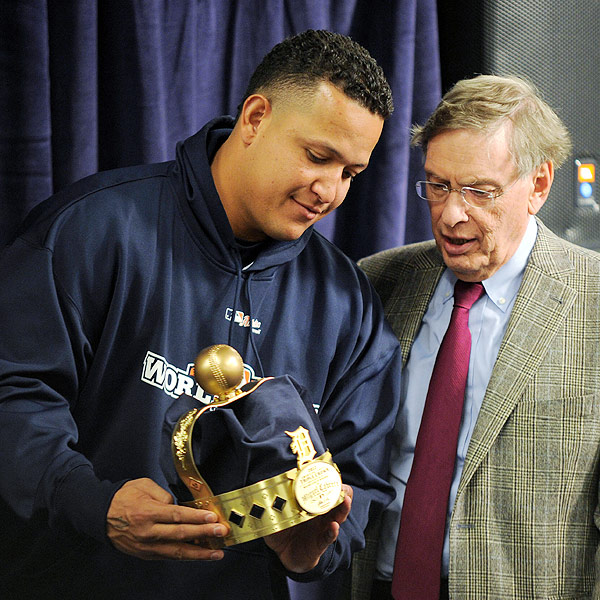 The defending Triple Crown is in the prime of his career and now has a second layer of insurance behind him in the form of Victor Martinez, who will follow Prince Fielder in the Tigers' batting order. In a World Series or Bust season in Motown, a repeat MVP performance from Miggy bring them close. (Repeat Triple Crown not guaranteed)
NL MVP: Joey Votto (Cincinnati)
Votto's MVP-caliber 2012 was crippled by injury, but the 29-year-old is hungry after blowing a playoff lead to the Giants last October. Expect another fine performance from the National League's three-time defending OBP champion.
AL Cy Young: Jered Weaver (LA Angels)
Weaver was worthy of the Cy Young last season, leading the AL with 20 wins. He will benefit from the knowledge of a strong lineup behind him; the Angels' bats will allow him to pitch without a lot of stress, allowing this laid-back California dude to cruise to something more than just a fourth consecutive top-five finish.

NL Cy Young: Steven Strasburg (Washington)

The Nationals are about to unleash the 24-year-old for what will be his first "full" season in the majors. Watch out, majors.
AL Rookie of the Year: Mike Olt (Texas)
The Rangers need a bat to fill in for the loss of Josh Hamilton. Expect Olt to be that bat before Memorial Day, if not on Opening Day.
NL Rookie of the Year: Travis d'Arnaud (NY Mets)
Wishful thinking, perhaps, but Sandy Alderson had to know he was getting something good for R.A. Dickey. d'Arnaud is the next can't-miss catcher and will help the Mets put a strong foundation in for the future.
AL Manager of the Year: John Gibbons (Toronto)
Gibbons has inherited loads of talent, and if he can take the Blue Jays back to the playoffs for the first time in 20 years in his first season back, it will be tough to give MOTY to anyone else.

NL Manager of the Year: Clint Hurdle (Pittsburgh)
Hurdle will face stiff competition from Davey Johnson, Fredi Gonzalez, and Bruce Bochy, but all he needs is for his Pirates to finish with at least 82 wins - a winning record. The ceiling is low enough, and Pittsburgh is finally good enough.
Playoffs and World Series
American League
Wild Card: Rays over Rangers
ALDS: Tigers over Rays, 3-1; Blue Jays over Angels, 3-2
ALCS: Tigers over Blue Jays, 4-3
Tampa Bay will have the advantage of playing in baseball's toughest division, but Detroit's talent and experience will prove too much. Toronto is postseason hungry and will overcome an explosive but pitching-short Los Angeles of Anaheim (of California of United States of North America of Earth). As good as R.A. Dickey is, his famous knuckleball will falter in the bitter Michigan October cold.

National League
Wild Card: Braves over Pirates NLDS: Nationals over Braves, 3-2; Reds over Giants, 3-1 NLCS: Nationals over Reds, 4-2
The National League playoffs will be Revenge Tour '13. Atlanta will be out for redemption after last season's outfield fly debacle, but Washington's pitching staff and revenge factor will be far greater. Cincinnati will finally overcome leading a series and put away San Francisco. While Aroldis Chapman has the 9th inning thoroughly covered, Stephen Strasburg, Jordan Zimmerman, Rafael Soriano, and company have every single inning covered.

World Series
Tigers over Nationals, 4-3
In an exquisitely exciting Fall Classic, Detroit's postseason experience will finally pay off, and a return trip to the final round will finally give Motown another World Series title.
Check back on Opening Day for

a recap of the Mets' firs

t excursion of 2013.
Keep calm, carry on, and LGM!